Rollerball vs. Ballpoint vs. Gel Pen
Article by Annette Wichmann
I love pens of all kinds, and this can be seen by the 14 different jars on my desk that hold a myriad of pens and pencils. But while some might look similar, like rollerballs, ballpoints, and gel pens (and there are similarities), they differ in other ways. Let me explain.
All have a delivery system whereby a moving ball at the tip picks up the ink and delivers ink to the paper surface. The difference lies is in the ink.
A ballpoint pen has ink that is oil-based. It's thicker, dries quickly and lasts longer. It is also less likely to bleed through the paper and it will typically be waterproof. But because it is thicker, it takes more pressure to write with a ballpoint, so hand or finger fatigue could become a factor if you're writing for a long time. With ballpoint pens, you are limited to tip sizes and ink colours are also limited. 
Fun fact: a LAMY ballpoint refill will write a length equal to 12 km!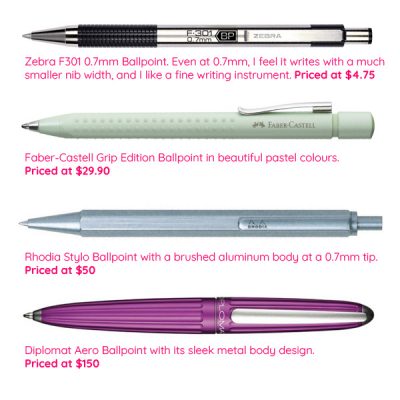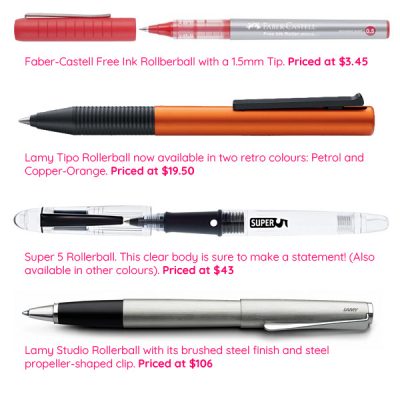 A rollerball pen has ink (or dye) that is water-based, and it looks like a liquid when it comes out of the pen. Because this ink is water-based, it can bleed through some papers, so paper choice is important when using a rollerball. This ink is slower to dry and can lead to smudging when writing, especially for people who write left-handed. Because the ink is runnier, it comes out of the pen faster and so the cartridge will empty faster than a ballpoint pen. It also takes less pressure to write with a rollerball and the pen seems to flow more smoothly.
A gel pen has unique ink that fits between the ballpoint ink and rollerball ink in that it is a little thicker than rollberball ink because it is of a water-based gel consistency. This ink uses pigment instead of dye so there is a greater range of colour choices here. We also have more variety in tip sizes with very fine tips like 0.28 mm to 1.0 mm. Because the ink is a little thicker, it can clump and can skip while writing. But the gel pen will typically glide across the paper when you write, and it tends to dry quicker than rollerball ink.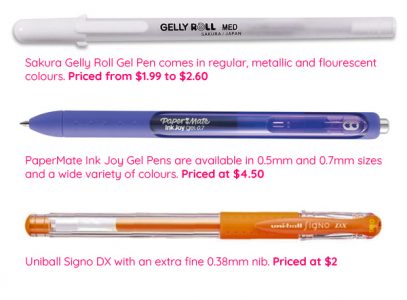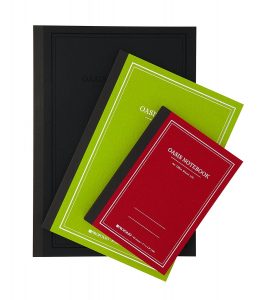 Itoya has spent years developing the ProFolio Oasis series of notebooks. This Japanese-made paper is fountain-pen friendly, has a lay-flat binding and provides a wonderful writing experience, no matter what writing tool you use. Their proprietary dot-grid-line pattern is unique and allows you to write and draw creatively on each page. The Oasis Notebook is available in three different sizes, the Oasis Light notebook is lighter than most and the new Oasis Summit has index pages at the front and numbered pages throughout, making finding your notes a breeze. Price $29.99