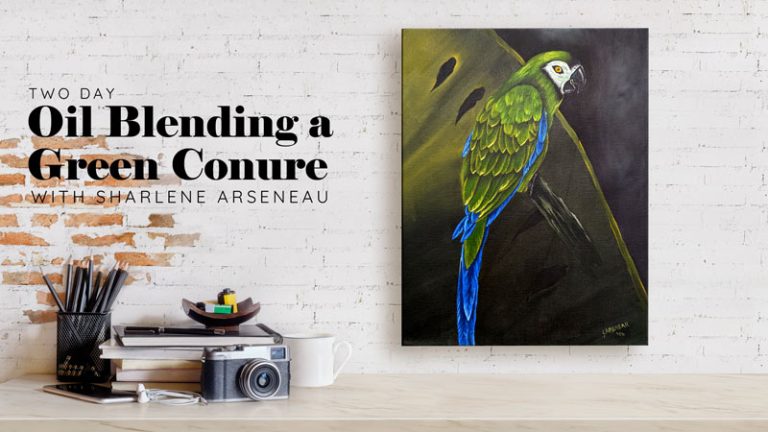 Oil Blending a Green Conure
Join artist Sharlene Arseneau for this two-day class all about Oil Blending Techniques! This magnificent bird comes to life on this exotic dark jungle background with spectacular greens and turquoise.
This course will be held Wednesday evenings from 6 – 9 pm for 2 consecutive weeks beginning Wednesday, September 20th continuing to Wednesday, September 27th. Sharlene will take you in-depth to explore the wonderful blendability of Cobra Water-mixable Oil Paints. That's correct! Water-mixable, no chemicals for thinning paint or cleaning brushes required!
Have fun learning the basics techniques of oil blending to create this stunning piece of artwork for yourself. Sharlene will take you step-by-step through three basic methods of blending (pat blending, chisel blending and stipple blending). Sharlene will also cover topics such as transferring a line drawing and following a pattern. Open to painters of all levels, you will have plenty of hands-on experience with Cobra Water-mixable Oil Paints.