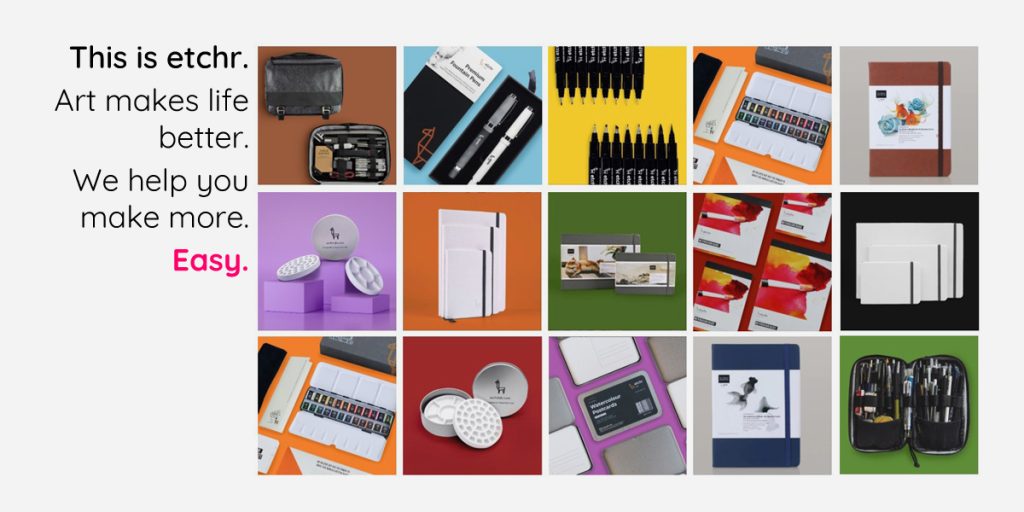 Etchr Carry Line
Just how much can the case hold? Get up close and see for yourself. 
Satchel
Slate
Mini Slate
Field Case
More from Etchr
All the colour you need in the palm of your hand and other great things to add to your wish list.
Mirror – demo the set up, the app, and see how to the mirror with a smart phone.
Ceramic Mini Palettes 19 well
Ceramic Mini Palette 37 well
Watercolour Sets
Black Markers
Coloured Markers
Gouache Brush Sets
Watercolor Brush Sets
Etchr Sketchbook Line
How would you fill a book? When does a sketchbook become a work of art on its own? Tips for painting the white covers. Try the Accordion book game called 'Pick-Up Line'.
Etchr Watercolour Sketchbooks Landscape
Etchr Watercolour Sketchbooks Portrait
Perfect Sketchbook
Signature Perfect Sketchbook Cold Press
Signature Perfect Sketchbook Hot Press
Accordion Books
Postcards
Watercolour Blocks