Comparing Mechanical Pencils
Article by Annette Wichmann
Let's talk about mechanical pencils.  Kensington Art Supply has a great selection of standard mechanical pencils, but there are some of them that really stand out!
Pentel Orenz Mechanical Pencil
The new 0.2mm mechanical pencil from Pentel called Orenz allows people, even with a heavy hand, to use this extra fine lead as it is supported by a unique sliding sleeve that retracts as you write or draw, giving the lead support to keep it from breaking. Once the sleeve retracts fully, just one click brings out enough lead to keep writing or drawing. It is important to use this mechanical pencil as it was designed (see image).
Refill leads are available for this mechanical pencil in HB and B. Pentel also makes Orenz in 0.3mm, 0.5mm and 0.7mm and these are all one-click. Price $12.95.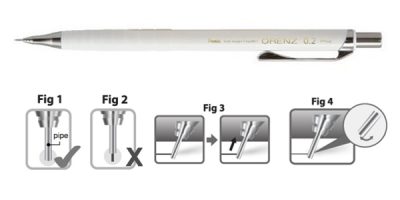 Here's how it works!
Click once to advance the pipe with the lead as this will adjust the length of the lead to the same length as the pipe (see Fig. 1).

Advancing too much (more than one click) may cause the lead to break during writing (see Fig. 2)

Slide sleeve (pipe) protects lead from breaking (see Fig. 3)

Slide features a smooth edge which will never tear paper when writing or drawing (see Fig. 4)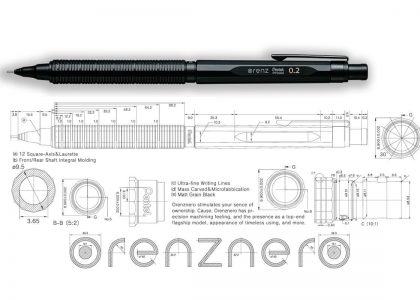 Recently, Pentel released the Pentel Orenz Nero with new technology of an "auto-lead-forwarding" system. The spring-loaded tip pulls the lead down automatically as you write or draw and keeps feeding until the lead runs out. This means you do not have to stop to click the pencil! Each pencil comes pre-loaded with Pentel Ain Stein HB lead and an eraser, which is refillable. Available in 0.3mm and 0.5mm. Price $59.99.
Mechanical pencils are also now available in a multi-tip pen which includes two rollerballs AND a 0.5mm mechanical pencil. Pentel makes the EnerGel 2S which has two ink colours in the pen (black and red) as well as a mechanical pencil – all in the same pen! Refills are available for the rollerballs and the lead can be refilled as well. Price $6.99.


And to continue in the theme of multi-tip pens, I love the Pilot Birdie Combo – a mechanical pencil and ballpoint pen all in a small and sleek design.  The refillable pencil is 0.5mm and the ballpoint is 0.7mm. You can move the cap to either side. Price $10.25.
If you want to spice things up with some colour, try this popular mechanical pencil from Pilot – the Colour Eno. Available in 8 vibrant colours (yellow, orange, pink, red, soft blue, blue, green and violet) with matching coloured 0.7mm leads. The lead resist smudging and is easy to erase! As an added bonus, the soft blue is a non-photo blue! They work beautifully on black or toned paper!! Pencils are priced at $3.50 each and the leads are $2.30 for a pack of 12.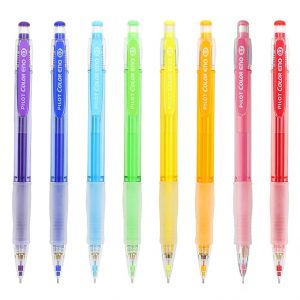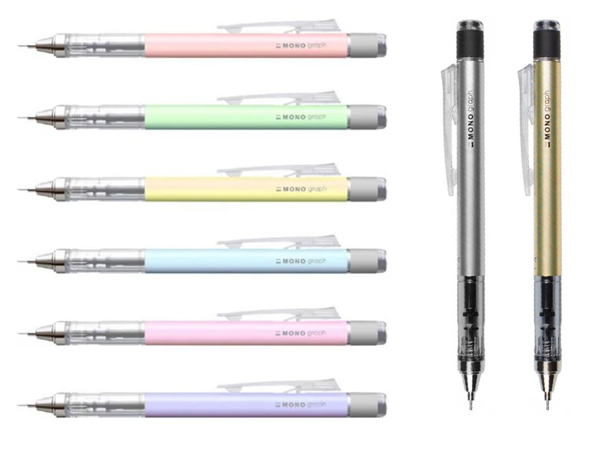 Tombow has a new mechanical pencil called the MONO Graph and they are now available in a variety of pastel colours (lavender, coral pink, mint green, cream yellow, ice blue) and metallic finishes of gold and silver. What's unique about the MONO Graph is an innovative shake mechanism that allows you to extend the lead just by shaking the pencil! If that feature isn't for you, the pencil's clip has a shake lock that prevents accidental lead extension. This pencil also features a 4mm sleeve that extends along with the lead to prevent the lead from breaking if you write or draw with firm pressure. It uses a 0.5mm lead and eraser. Price $4.75.
Pentel has a long tradition of making beautiful mechanical pencils in their GraphGear line. From the GraphGear 1000, their high-end pencil with dual-action retractor and built-in lead hardness indicator and knurled grip with soft rubber pads (Price $31.50) to the GraphGear 800 with the metallic grip inlaid with soft rubber pads and sturdy metal construction (Price $12.95) to the GraphGear 500 with the metal mesh grip on a slim, beveled barrel (Price $10.75). Pentel now introduces the GraphGear 300 (Price $5.00) where quality meets affordability in this entry-level mechanical pencil. The small clip doesn't bother your hand while writing or drawing and the metal grip on a slim barrel is comfortable to hold.  All GraphGear models are available in 0.3, 05, 0.7 and 0.9mm.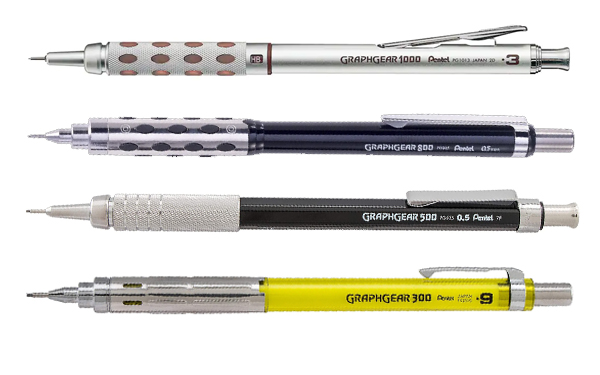 Faber-Castell Grip Plus has an ergonomic triangular shape and a rubber grip zone for comfort and a unique 1.4mm lead. I love this pencil for sketching. The metal tip retracts and there is an extra-large twist eraser on the tip. Refills are available for both the eraser and the lead in a B hardness. The pencil comes in a white, metallic red or metallic blue finish.  Price $11.50.
Lamy 2000 Mechanical Pencil
The LAMY 2000 mechanical pencil has won many design awards. The sleek design is made of fiberglass and stainless steel with a matte brushed finish. Available with either a 0.5mm or 0.7mm lead and comes with an eraser and cleaning needle. Price $118.00.