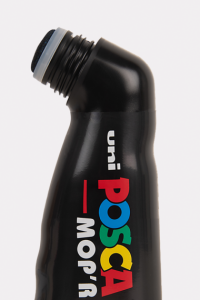 The XXL round tip of the POSCA MOP'R (PCM-22) is highly intuitive, ideal for creating large-scale drawings and controlled drips.
Thanks to its unique ergonomic shape, whether held horizontally or vertically, POSCA MOP'R offers a totally new grip and experience. Holding it upright or upside down, you can vary the effects infinitely.
POSCA MOP'R increases the creative capacities of all audiences tenfold: amateurs will be won over by its ease of use and will dare to create large drawings and XXL fillings, while professionals and artists will
 appreciate the quality of the drips and the many effects made possible by this unique tool. For all, the creative experience is new and unique.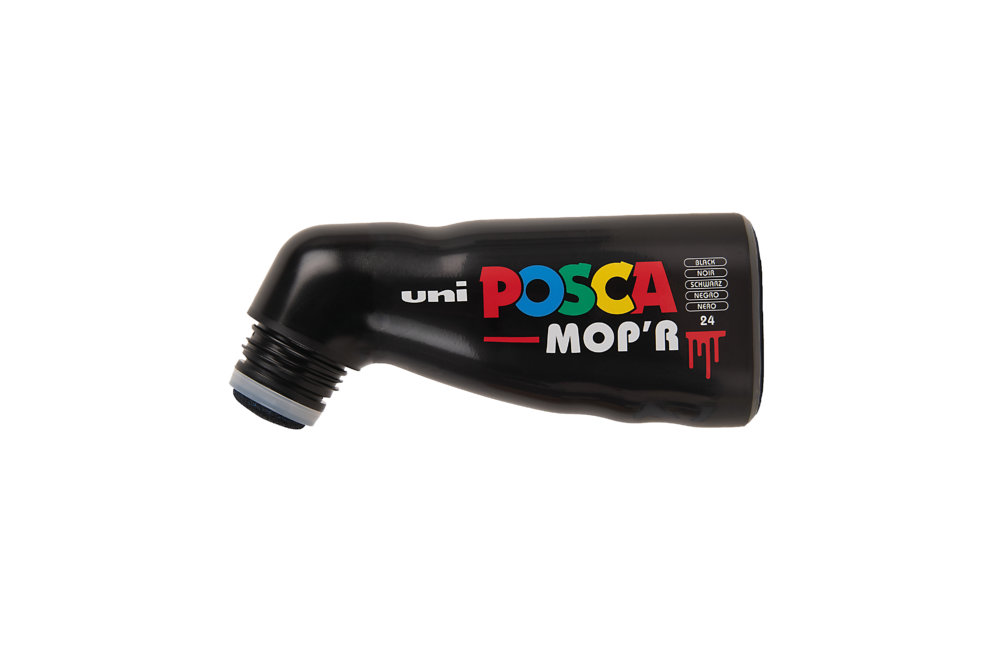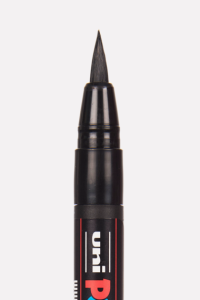 The soft brush tip of the PCF-350 is ideal for calligraphy and colouring.
The POSCA Brush PCF-350 has a brush tip for getting into corners and gaps, for creating solid colours and fluid strokes in the same way as a traditional brush.
Painting enthusiasts will rediscover all the pleasure of handling a brush combined with the unique qualities of POSCA, while beginners will learn new techniques quickly with no risks.
The POSCA Brush is used and appreciated by many different groups: artists adding colour to sculptures, mouldings or inaccessible parts of an art work (between folds and inside twists and turns, nooks and crannies…), fans of Art Toys who need to reach very specific areas of the object (under the arm, the neck…), Asian calligraphy enthusiasts who love the brush effect combined with fine lines, comic artists and beginners looking for an easy way to learn to handle a brush.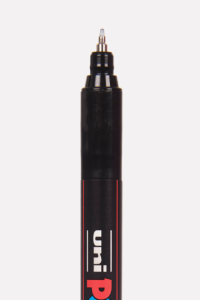 The precise and calibrated tip of the PC-1MR produces refined lines.
With its extra-fine calibrated tip ringed in metal, the PC-1MR has all the qualities of a paint marker – in the form of a pen! Designed for amateurs and professionals looking for an ultra-fine, dense line, it offers a rich palette of colour effects.
The PC-1MR is ideal for creative professionals (e.g. graphic designers creating roughs, technical drawings and sketches etc.), creative hobbyists (scrapbooking,
card makers…) and artists adding finishing touches, details and contours with absolute precision.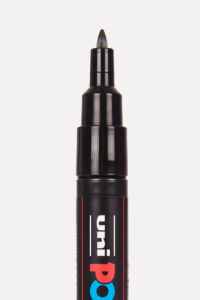 The very fine tip of the PC-1MC is ideal for small-format creations.
The PC-1MC is the ideal POSCA for small-format creations with its small size and its extra-fine bullet tip. It is appreciated by adults and children, from beginners to the most experienced, who use it for precise colouring.
The extra-fine bullet-tip POSCA is perfect for novice and experienced crafters, who use it for drawing, colouring, scrapbooking, tableware and upcycling. It is also used by professionals to add colour to documents, produce roughs, colour in illustrations or make precise markings (many beekeepers use it to identify queens in their hives!). Finally, artists appreciate it for painting, drawing or signing their works.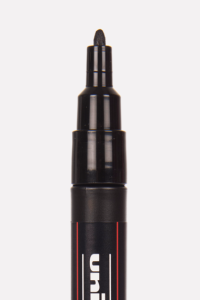 The universal bullet tip of the PC-3M adapts to all types of creation.
The fine-point POSCA PC-3M is the quintessential creative tool used by connoisseurs. With a precise, assured stroke, it can customize, create, decorate and mark anything that inspires you.
The PC-3M is ideal for many users: artists and creative professionals such as designers who use it to add colour or shading to plans; fans of creative hobbies such as scrapbooking and card-making, who use it to decorate photos, write on glass and make beautiful table settings; keen decorators who use it to upscale objects; surfers and skaters for customizing their boards; everyday creative people for transforming a cap or t-shirt and budding artists for light-filled drawings with deep colours.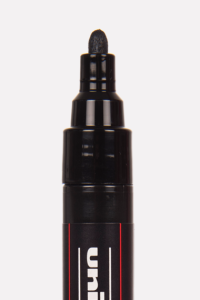 The PC-5M's versatile bullet tip offers unlimited freedom of use. It adapts to all types of creation.
The medium tip of the PC-5M is the most versatile in the POSCA range. Providing a clear, precise line and beautiful colour, it is appreciated by both professionals and amateurs.
The PC-5M suits all sorts of people: artists and creative professionals such as architects and designers; fans of creative hobbies and home decoration; surfers and skaters wanting a new look for their boards. Its ease of use makes it ideal for beginners to explore their creativity.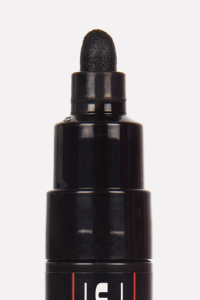 Latest addition to the POSCA range, the PC-7M has a very handy broad bullet tip.
The PC-7M is appreciated by both amateurs and professionals for its broad bullet tip enabling both precise colouring and large-scale precision work. It is the natural complement to the PC-8K.
The PC-7M enables artists to paint and draw on any surface, indoors or outdoors (frescoes, large canvases…), customizers to personalize their equipment (bikes, motorbikes, surfboards, skateboards…) and both amateurs and professionals to decorate windows and displays.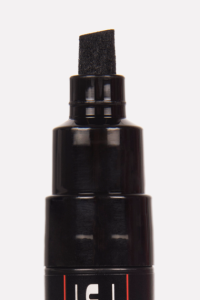 The broad chisel tip of the PC-8K is perfect for tracing curves and covering large areas.
With its broad chisel tip, the PC-8K can not only draw clear curves with a graphic calligraphy effect; it can also colour wide areas. Available in a huge range of colours, it is ideal for flat colours, markings of all kinds and of course street art creations and lettering.
The PC-8K enables artists to paint and draw on any surface, indoors or outdoors; keen decorators to give makeovers to rooms, furniture, objects and fabrics; surfers and skaters to decorate their boards; professionals to decorate window displays.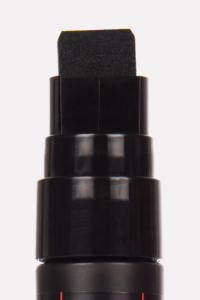 The rectangular XXL tip of the PC-17K is ideal for flat colours and backgrounds.
The PC-17K extra-wide tip is the expert in the POSCA range. With its XXL size, it is the best friend of artists and professionals producing large-scale works.
The PC-17K enables artists to paint perfect backgrounds on giant surfaces and make work in front of an audience; keen decorators to give makeovers to rooms, furniture, fabrics and large objects; professionals to decorate window displays and banners.

SETS OF POSCA MARKERS ARE AVAILABLE IN-STORE