HEAVY BODY ACRYLIC
FLUID ACRYLIC
HIGH FLOW ACRYLIC
OPEN ACRYLIC
SO FLAT
MEDIUMS + GELS
HEAVY BODY ACRYLIC
The first acrylic colors offered by GOLDEN, Heavy Body paints are known for their exceptionally smooth, buttery consistency. The Heavy Body palette includes the largest assortment of unique pure pigments in a 100% acrylic emulsion available to professional artists. These colors offer excellent permanency and lightfastness. There are no fillers, extenders, opacifiers, toners, or dyes added.
Each Heavy Body color formula reflects the qualities of its pigment. Colors that tolerate a higher pigment load dry to a more opaque, matte finish. Colors that are more reactive and do not allow as much pigment loading tend to have a glossier, more transparent, finish. Because Heavy Body colors contain no matting agents, the gloss of each color will be different.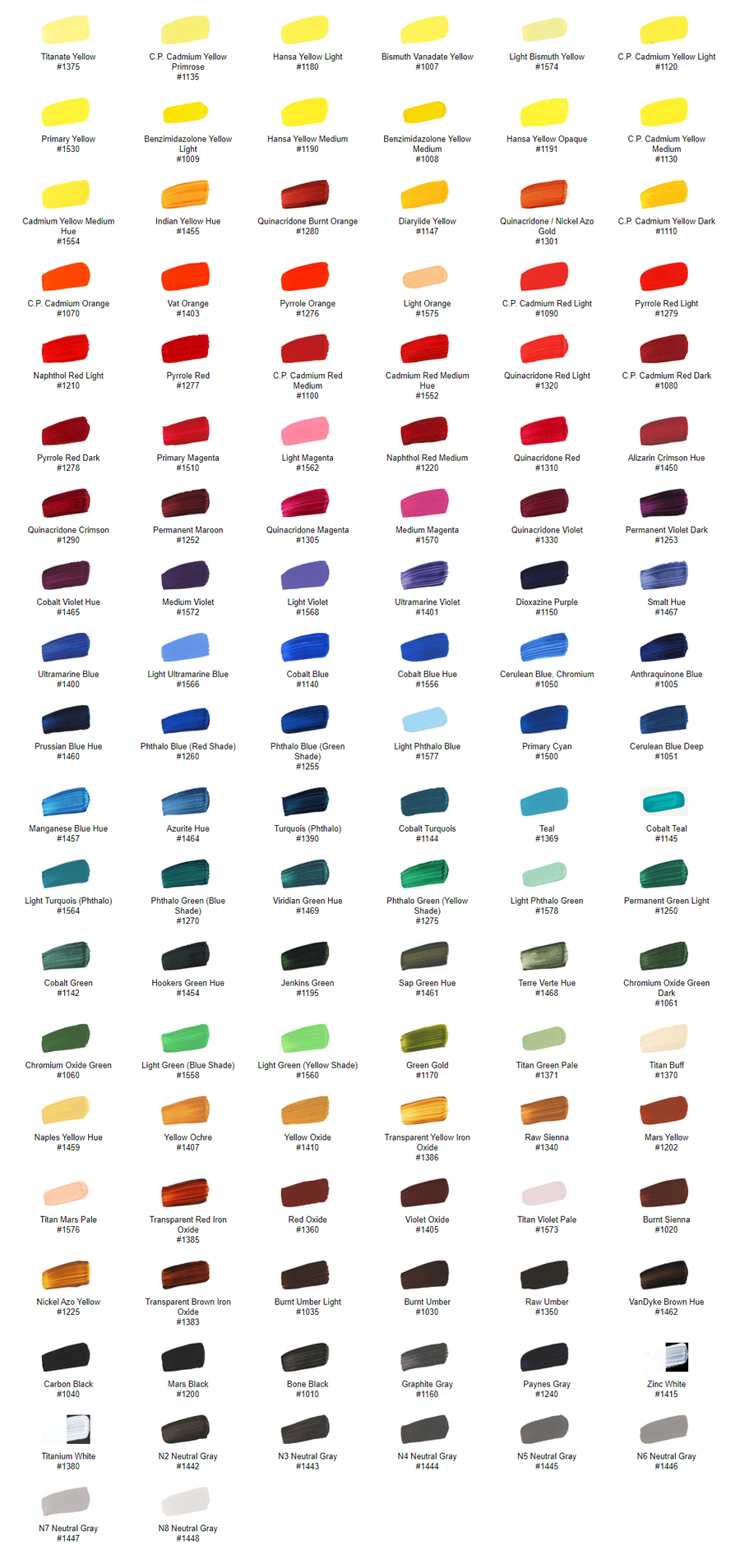 FLUID ACRYLIC
Equal the intensity of GOLDEN Heavy Body Acrylics but with an even, flowing characteristic useful for dry brush application, fine details, pouring, spraying (particularly when mixed with GOLDEN Airbrush Medium), staining techniques and many others.
Fluids are created by loading an acrylic polymer binder with concentrated levels of quality pigments for a wide selection of permanent and lightfast colors. No fillers or extenders are added to achieve the desired consistency, nor is the fluid quality achieved with additional water. GOLDEN Fluid Acrylics have the same pigment load as the Heavy Body Acrylics, but in a viscosity similar to heavy cream. Fluids allow for smooth flowing applications while retaining color intensity, tinting strength, film integrity, and adhesion.
Fluids blend easily with all acrylic colors, and readily tint gels, mediums, gessoes and grounds. Fluid Acrylics are extremely versatile, and ideal for fine brushwork, glazing, staining, water media techniques and many more. Mix Fluid Acrylics with Airbrush Medium for airbrush application of artwork including textiles.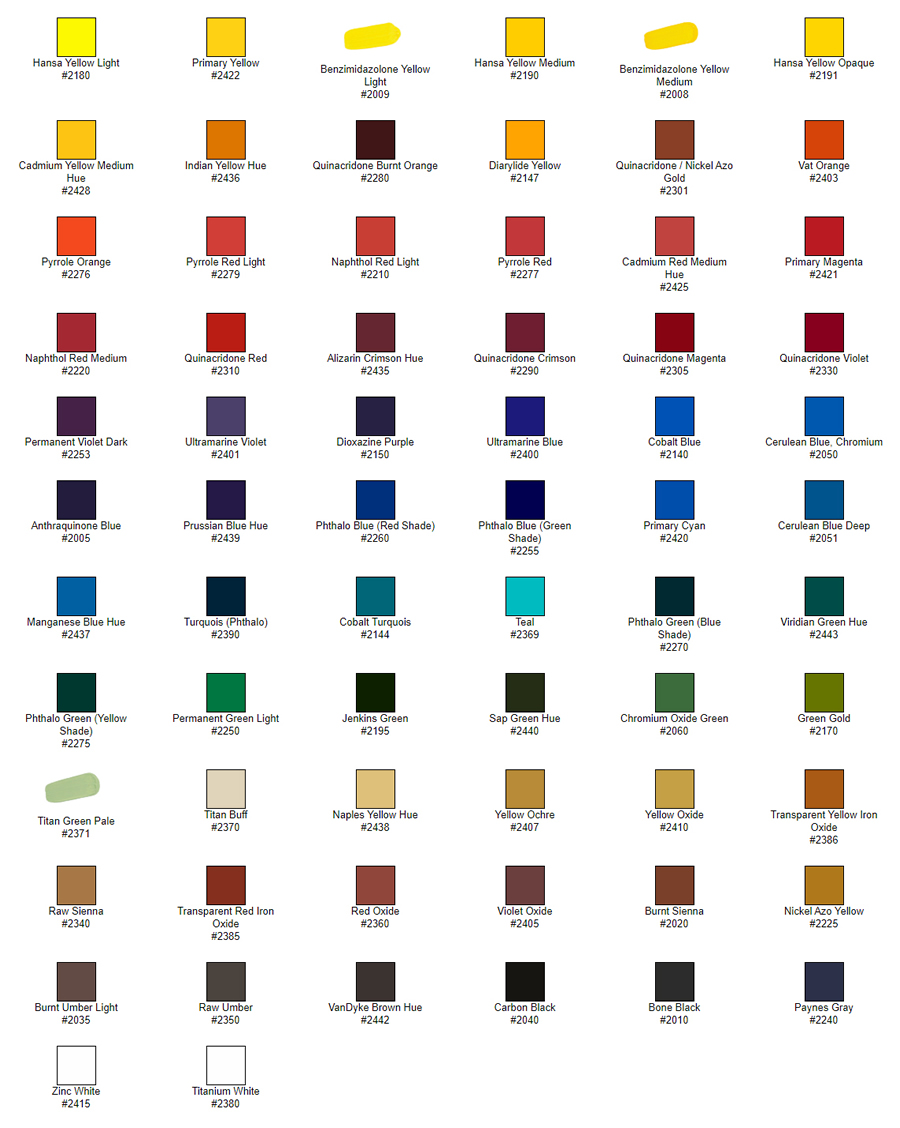 HIGH FLOW ACRYLIC
HIGH FLOW ACRYLICS are an ultra-thin paint with ink-like consistency that provide incredible versatility. They can go directly from bottle to airbrush, refillable marker or dip pen and work great for drawing, staining, dripping, pouring, calligraphy and color washes.
High Flow offers a palette that includes many single-pigment colors, as well as Fluorescent and Iridescent colors. While it acts like an ink, it's an acrylic so it's compatible with other GOLDEN Acrylic colors and mediums.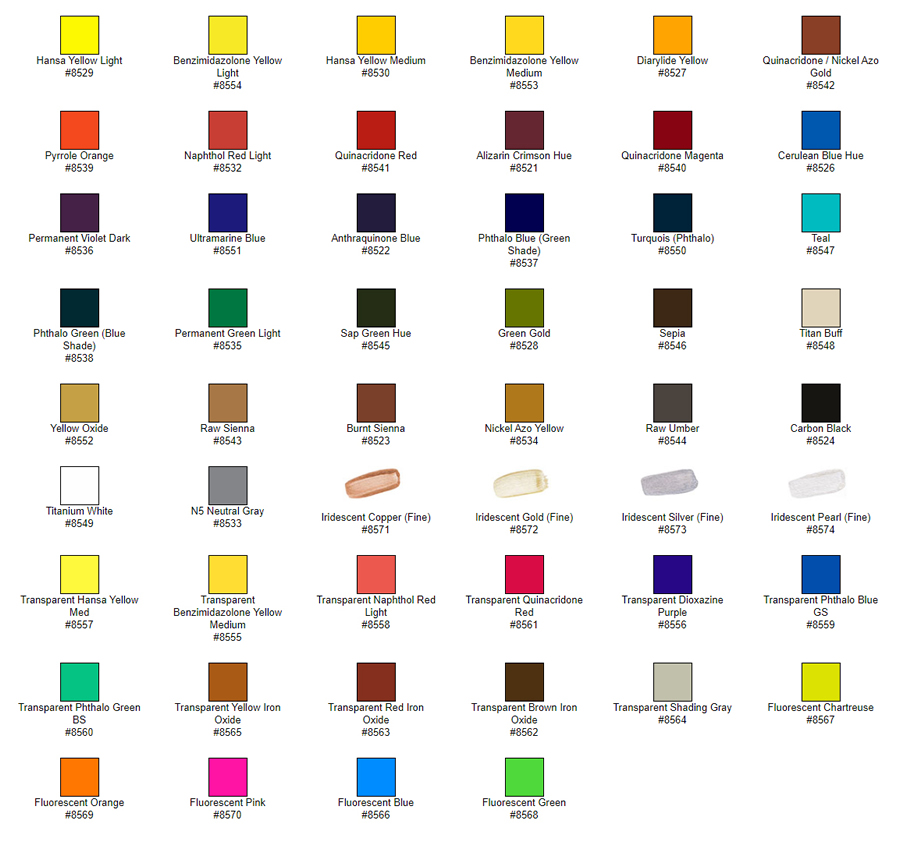 OPEN ACRYLIC
OPEN Acrylics are a slow-drying paint with a slightly softer consistency than our Heavy Body paints. The increased working time of these colors expands their range to include more traditional techniques once only possible with oils. Thick applications can dry extremely slowly, so we recommend artists only use OPEN Colors thinly (< 1 mm). Drying time can also be accelerated by mixing OPEN with faster-drying acrylics like our Fluid and Heavy Body colors. The slow-drying capability of OPEN Acrylics also makes the suitable for some printmaking techniques.
Because OPEN Acrylics dry slowly, painters who cover their palettes or use sealed containers have been able to use the same colors for weeks, reducing the amount of paint wasted and preserving color mixtures for future use.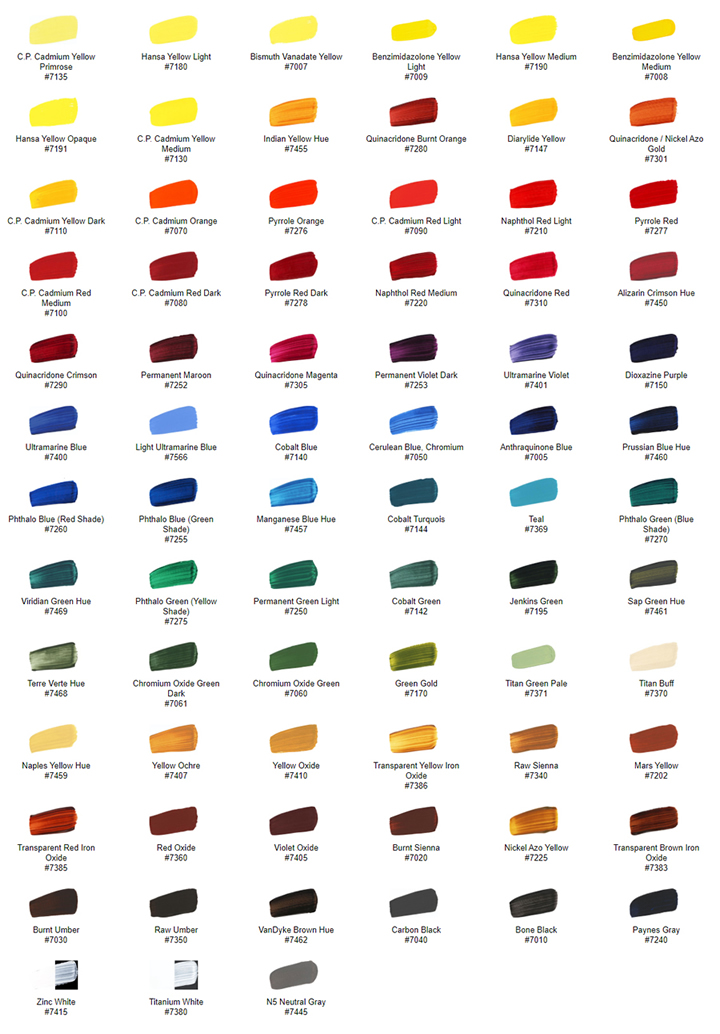 SO FLAT
GOLDEN has developed a paint that helps artists create immersive fields of color without the distraction of texture and glare. The paint has a flowing consistency, offering exceptional coverage and a leveling capability as it dries. This unique combination of qualities can only be found in SoFlat Matte Acrylic Colors.

Artists have used gouache for centuries because of its matteness and opacity, but are restricted by its inherently sensitive paint film. SoFlat moves beyond these limitations, providing a velvety smooth, durable surface. The advantages of SoFlat are extended by its compatibility with other acrylic paints and mediums, increasing the range of creative effects that can be achieved.

Perhaps the most important quality of SoFlat is quality itself. Because it is produced using the same professional standards as all GOLDEN Acrylics, and is backed by our unrivaled service and support, you can depend on the performance and consistency of these professional artist colors.

OPACITY AND COVERAGE
When striving for that pure color effect, you need a paint that goes down evenly with full intensity in as few coats as possible. While some pigments are naturally transparent, SoFlat has a unique formulation that provides greater opacity from these colors than is normally found in acrylic paints.

LEVELING
Perhaps the most distinctive quality, and the one that might be most unique to SoFlat, is the paints natural leveling quality. The paint relaxes after being brushed out, making it easier to minimize the appearance of brushstrokes for uninterrupted fields of rich matte color.

MATTE
Artists have always been drawn to the enigmatic quality of matte color, and SoFlat delivers with a glare-free surface that allows the depth and intensity of each color take center stage.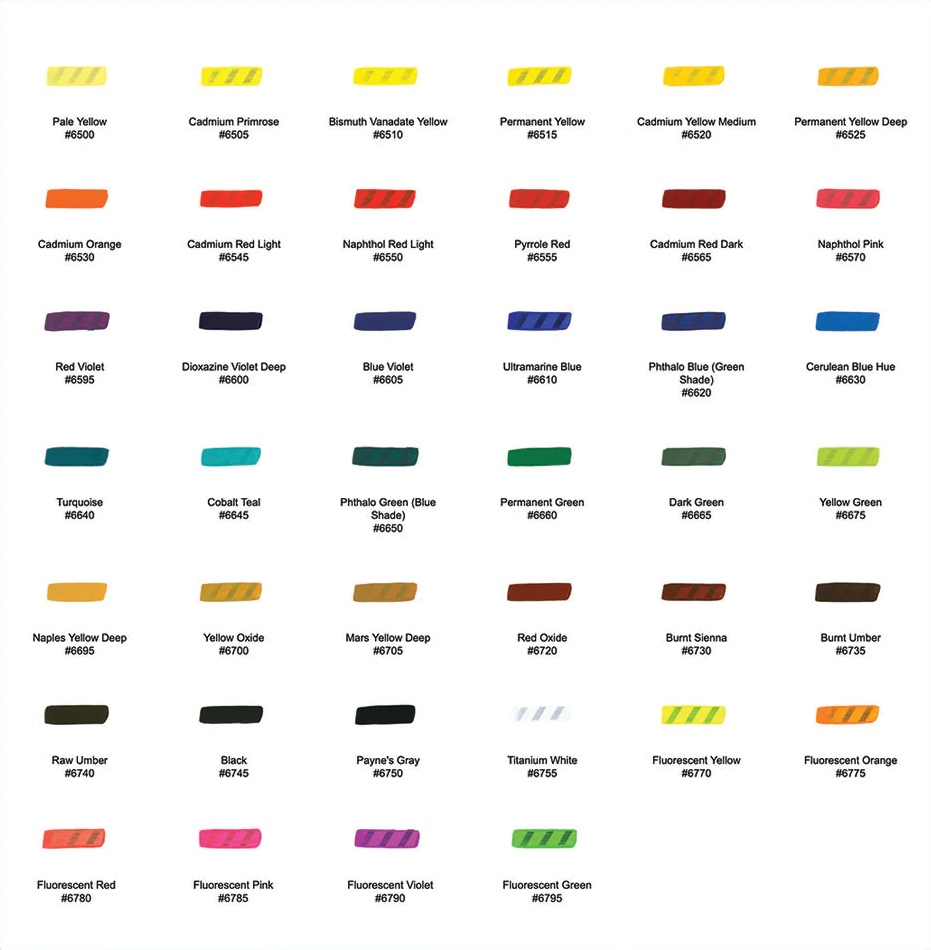 MEDIUMS + GELS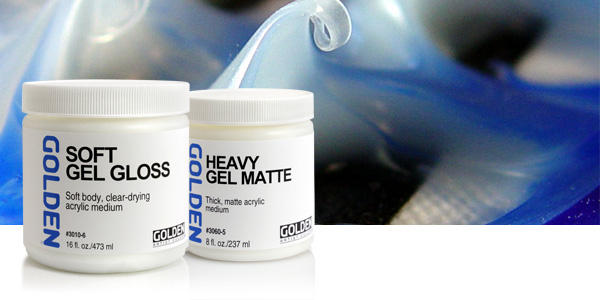 Gel Mediums offer many ways to build texture. We offer five consistencies from our most viscous Extra Heavy Gel to Soft Gel. Each gel is available in Gloss, Semi-Gloss and Matte finishes. They can be used to create glazes, extend paint and change finishes. Gels are essentially colorless paint, as they utilize the same 100% acrylic polymers as acrylic paint. Gels are also excellent adhesives for collage and mixed media, they dry with excellent flexibility with chemical, water and UV resistance.



Soft Gels (L-R: Gloss, Semi-Gloss, Matte) are thinner than Heavy Body Colors. Mix with acrylic colors to produce a brilliant glaze. Soft gels can be used as a base for wet blending or as an adhesive for collage.



Regular Gels (L-R: Gloss, Semi-Gloss, Matte) have the same viscosity as Heavy Body Acrylic Colors and are ideal for extending paint and regulating transparency without changing consistency. Useful for impasto.



Heavy Gels (L-R: Gloss, Semi-Gloss, Matte) are thicker than Heavy Body Acrylic Colors and may be blended with colors to increase body. Excellent for holding peaks.



Extra Heavy Gels (L-R: Gloss, Semi-Gloss, Matte) have the thickest consistency of any gel we offer and may be blended with colors to increase body. Excellent for holding peaks and tool marks.


High Solid Gels (L-R: Gloss, Matte) are similar in body to Heavy Gels. They contain more acrylic solids and shrink slightly less than other gels. They blend well with colors and will retain brush strokes upon drying. Available in gloss and matte.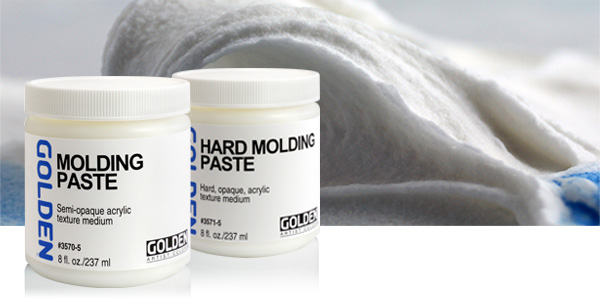 Pastes can be used to achieve a variety of effects and expressions. When used in conjunction with acrylic colors they broaden working properties and expand creative possibilities. Unlike gels, pastes are opaque because they contain Marble Dust or other fillers that create a white or clay-tone finish with a variety of textures and properties. Molding Paste can also be used to create foundations for painting either to create texture over a smoother surface, or to smooth out a textured surface. The absorbent qualities of Molding Paste make it suitable as a ground for nearly every painting and drawing media.

Molding Paste – Excellent for building surfaces and creating textures. Dries to a hard, yet flexible, opaque film. Blends with colors to tint and extend paint.

Extra Heavy Molding Paste – A blend of Extra Heavy Gel Gloss and Molding Paste. Dries to a satin, semi-opaque finish. Excellent for increasing viscosity and building surfaces.

Hard Molding Paste – Dries to a extremely hard, opaque film, it is useful for creating tough, durable finishes for smooth or textured surfaces. Once dry, it can be carved with hand or power tools. Blends easily with acrylic colors.

Light Molding Paste – Over 50% lighter than GOLDEN Molding Paste. This dramatic weight reduction is beneficial in creating large artworks and thick layers of material. Light Molding Paste dries to an opaque, matte finish with good flexibility. It is designed to hold stiff peaks for highly textured surfaces and it blends easily with colors.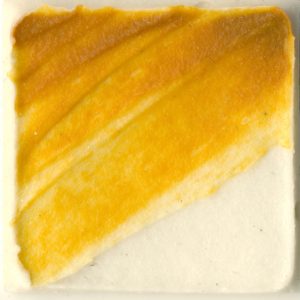 Coarse Molding Paste – thick, warm white colored medium, translucent up to about 1/8 inch thickness. Dries to a hard, stiff but flexible film with a tooth like fine sandpaper. Accepts wet and dry media very well. Mix with Fluid or Heavy Body Acrylics to create dense paint that holds good peaks and dries matte to satin with a finely pebbled surface.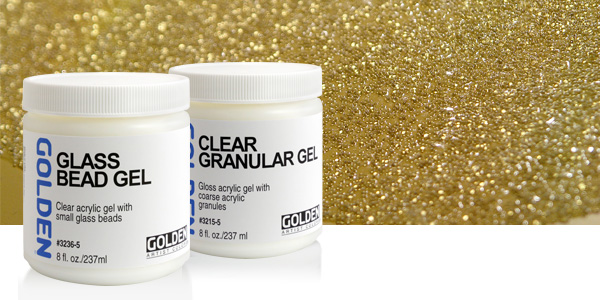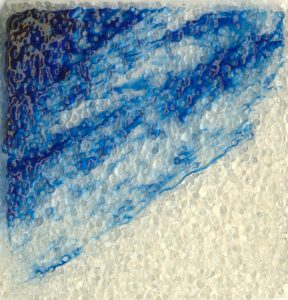 Clear Granular Gel is made with granular acrylic solids and has excellent clarity and du­ra­bil­i­ty with a coarse texture that dries translucent. Clear Granular Gel can extend paint and add texture without altering color. (Clear Granular Gel Item# – 3215)

Glass Bead Gel made with genuine glass beads, offers a unique effect similar to condensation on glass – best seen in thin films over a light color to allow the glass beads to be illuminated. (Glass Bead Gel Item# – 3236)


Pumice Gels (L-R Fine, Coarse, Extra Coarse) textures dry to hard films. They mix well with GOLDEN Acrylic Colors. Fine Pumice Gel is useful as a drawing ground. Coarse Pumice Gel and Extra Coarse Pumice Gel create more coarse textures with sand-like pumice granules to yield concrete-like finishes.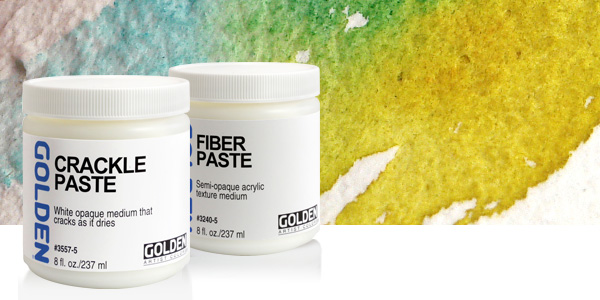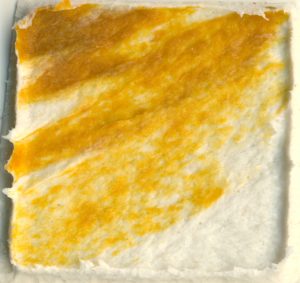 Fiber Paste when dry has the appearance of handmade paper. It can be skimmed with a wet palette knife to make a smoother surface. The dry off-white color is absorbent, making it ideal for use with acrylic washes.

Crackle Paste is a thick, opaque material that cracks as it dries. The size and extent of the cracking pattern depends on the thickness of application, and environmental conditions during drying and other factors. Dries to an opaque, matte finish, with an absorbent surface suitable for acrylic paints and mediums.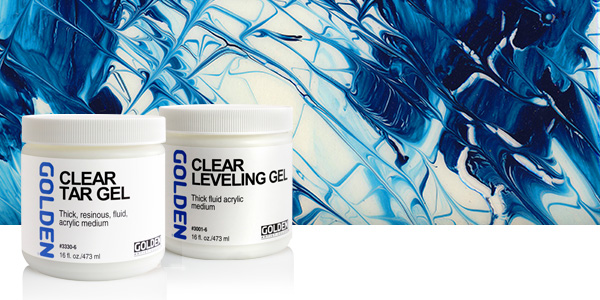 Clear Leveling Gel [formerly Self Leveling Clear Gel] produces an even film with excellent clarity. It has a unique resinous, stringy consistency resulting from its leveling property. Clear Leveling gel dries to a flexible, high gloss film while imparting a leveling quality to other GOLDEN Acrylic products. It blends well with GOLDEN Acrylic colors to produce glazes.

Clear Tar Gel has a pully, tar-like feel, but in a clear, colorless gel. This extremely resinous and stringy consistency makes it feel very different from other acrylic gels. Useful for generating fine detailed lines by "dripping" it over surfaces, as it continuously flows from palette knives or other tools. It blends well with all GOLDEN Acrylic colors, although Fluid Colors work best.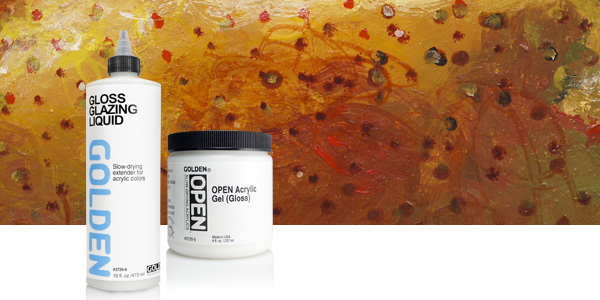 Gloss Glazing Liquid and Satin Glazing Liquid [formerly Acrylic Glazing Liquid] can be mixed with GOLDEN Acrylic colors to create glazes for fine art as well as interior application on walls or furniture. The slow drying formula provides sufficient working time for a wide variety of glaze and decorative finishes normally accomplished with oils. It is also excellent for soft transitions and color blending in paintings.
OPEN Acrylic Gels (Gloss/Matte) are used to extend OPEN Slow-Drying Colors while maintaining their working properties. They can also be used to slow down fast-drying acrylic colors as a blending or glazing medium. 
OPEN Mediums help maximize working time of OPEN Acrylics and can be used to adjust color strength and translucency while maintaining consistency. OPEN Acrylic Medium (Gloss or Matte) will lower paint viscosity to create a more fluid mixture and increase flow. OPEN fluid mediums are also useful for lowering the viscosity of Heavy Body colors and slowing the drying for detail painting using fine brushes.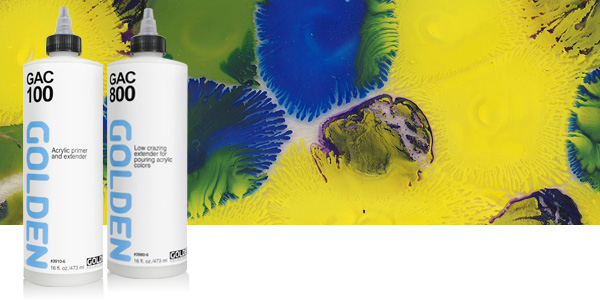 GAC (short for Golden Artist Colors) Specialty Acrylic Polymers are based on 100% acrylic polymer emulsions. The GACs are useful as mediums or modifiers of acrylic paints. GACs can be used to extend acrylic colors, to regulate transparency, create glazes, increase gloss, reduce viscosity or improve adhesion and film integrity. GAC polymers can also be used for binding pigment solids for various effects and surfaces. Unlike the other GOLDEN Mediums and Gels, GAC Acrylic Polymers have only a minimum amount of thickeners, levelers, defoamers and surfactants to ensure good film formation.
The consistency of the GAC polymers is more fluid and thin than other GOLDEN Mediums, so they will reduce the thickness of most GOLDEN Acrylic Paints. GOLDEN Fluid Acrylics are slightly thicker than the GACs, but will exhibit less change in viscosity with the addition of a GAC polymer.
Each GAC is a unique polymer with unique benefits and applications. Refer to the product descriptions below to find the proper medium for a particular applications. 
GAC 100 is a thin, translucent, gloss medium. Useful for thinning or extending colors as well as increasing flexibility. Wets out solids more readily than other polymers and is useful for creating homemade paints. GAC 100 provides basic protection from Support Induced Discoloration (SID).
GAC 200  Hard acrylic extender for non-porous surfaces is the hardest and least flexible polymer we offer. It is Ideal for mixing with acrylic colors to increase film hardness, reduce dry film tack and to increase adhesion to many non-porous surfaces. Dries to a clear, high gloss, finish. GAC 200 is not recommended for flexible supports. 
GAC 400  Stiffens natural fibers and fabrics and is useful for stiffening unprimed canvas or sculpting and shaping fabric. Fibers saturated with GAC 400 will dry to a hard, stiff film.
GAC 500  Gloss extender for Fluid Acrylic Colors is a unique balance of film hardness and flexibility offering increased leveling, increased mar resistance and decreased dry film tack. GAC 500 is particularly useful for extending Fluid Acrylic Colors with minimal property change. It can be mixed with Airbrush Transparent Extender for a fast-drying, sprayable isolation coat.
GAC 800  is a low-crazing extender for pouring acrylic colors. "Crazing" is the formation crevices in surfaces that develop as acrylic paints and mediums dry. The addition of GAC 800 promotes drying with a smooth, even film, good gloss and flexibility, but with moderate clarity. GAC 800 is also useful for adhesion to chalky surfaces.
GAC 900  Heatset fabric painting medium, offers a very soft hand and laundering stability. Mix with High Flow Acrylics to produce "tie-dye" effects, or blend with GOLDEN Heavy Body, Matte or Fluid Acrylics for brush or screen application.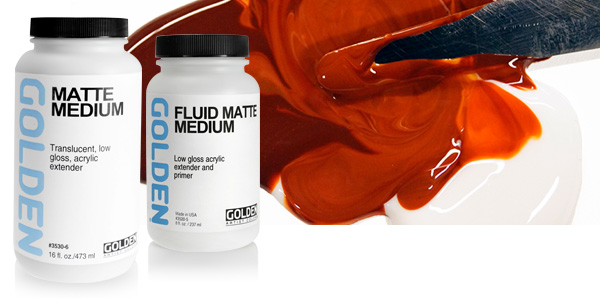 GOLDEN Mediums & Additives provide infinite control with acrylic colors. Mediums control transparency, viscosity and surface sheen, while additives control paint's working properties. 
Gloss Medium [formerly Polymer Medium (Gloss)] is useful for creating glazes, extending colors, enhancing gloss and translucency. It has an oil-like feel and resinous nature that promotes flow and leveling. It is the best product for blocking Support Induced Discoloration (SID). 
Fluid Matte Medium is useful for extending colors, decreasing gloss and increasing film integrity. Particularly useful with GOLDEN Fluid Acrylics to decrease gloss while maintaining consistency.
Matte Medium is a liquid medium useful for extending color, decreasing gloss and increasing film integrity. It is also used as a nearly clear ground on canvas instead of gesso.
Super Matte [formerly Super Loaded Matte Medium] is useful for reducing gloss. The high level of matting agents lower the sheen of other products with minimal addition to preserve color and consistency. Best when mixed with with acrylic paints or mediums.
Color Pouring Medium Gloss & Matte are leveling, low crazing extenders for pouring acrylic colors. Create beautiful, glossy pours with Color Pouring Medium Gloss or use Color Pouring Medium Matte for pours with a velvety matte surface. 
Airbrush Medium modifies GOLDEN Fluid Acrylics for spray application by reducing clog­ging and tip buildup during spraying. Recommended for spraying on garments, Airbrush Medium may also be used to thin other prod­ucts for spraying  such as Iridescent/Interference Acrylics and Gesso. 
High Flow Medium [formerly Airbrush Transparent Extender] in­creases the transparency and film hardness of High Flow Acrylics. May be mixed in any ratio desired, for precise control of transparency.  
Silkscreen Medium is a waterborne system de­signed for use with GOLDEN Acrylic Colors. It increases the working time and retards drying in the screen. NOTE: Silkscreen Medium is NOT designed for clothing application.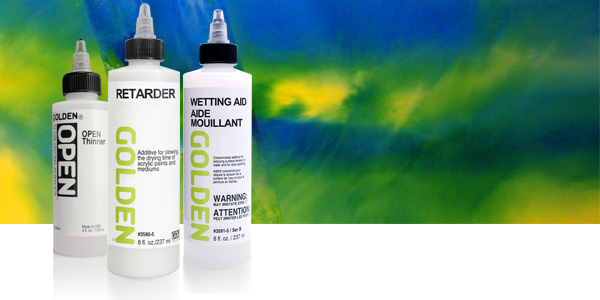 Retarder is an additive used to increase the open (drying) time of acrylic paints. Useful for wet in wet techniques and reducing skinning on the palette.
OPEN Thinner is a water-based additive for thinning the consistency of OPEN Acrylic Colors and Mediums without altering drying time. It also maintains and adjusts the workability of OPEN colors on palettes, and can be used as a thin-bodied retarder with Heavy Body or Fluid Acrylic colors. Because OPEN Thinner contains no binders, it does not form a film and should only be 25% or less of mixtures with acrylic colors and mediums (one part OPEN Thinner to three or more parts paint or meduim).
Neither Retarder nor OPEN thinner contain binding agents. To ensure adhesion, it is recommended that the addition of Retarder not exceed 15% (1:6), and OPEN Thinner should not exceed 25% (1:3) when mixed with colors or mediums. 
Wetting Aid is a concentrated additive used to reduce surface tension of the water in the acrylic emulsion, thereby increasing the slickness and flow of the paint. It is effective for achieving rich stains on a porous surface. As with OPEN Thinner and Retarder, Wetting Aid contains no binder and should only be used properly dilluted per product instructions.